Colorado Royal Victorian VI 34 Glass Greenhouse Owners
Feel free to pass on our recommendation of the Victorian Greenhouse as we LOVE ours. I think we've had it for 5 years and it was one of the best investments we've made. Living in Colorado, I do not use it during the winter months, however I usually utilize it between April and November. It has held up fabulously through all the storms Colorado has had, including the cyclone blizzard which was centered in Elizabeth Colorado where we are. I've never seen a storm quite like that one. I think the only maintenance we've done on it was to replace the shade curtain hooks from sun rot.
My husband and son set it up in a day, after the foundation was poured, as we have it anchored to concrete. The location of our greenhouse is truly in the middle of a field with little to no protection from the elements.
I remember us struggling on deciding to purchase it when we couldn't touch it also. For us, it was a lot of money to put out for something we could only see pictures of. There hasn't be a day that I regretted our decision. I would purchase another in a heartbeat.
Yes! I recommend this product.
Ernie & Mary S. | 8/24/2020
Our vi34 Storm Survivor
Wanted to share a survival story of our (vi34) greenhouse. We just got pounded with apple size hail in a severe unexpected storm. Attached are a couple pictures of the hail – it looks like big Covid – and a picture of the green house intact after the storm. One of our cars was damaged and we need to have the house roof inspected, but not one crack in the glass greenhouse. Amazing.
Yes! I recommend this product.
Stephen and Theresa Shank | 5/5/2020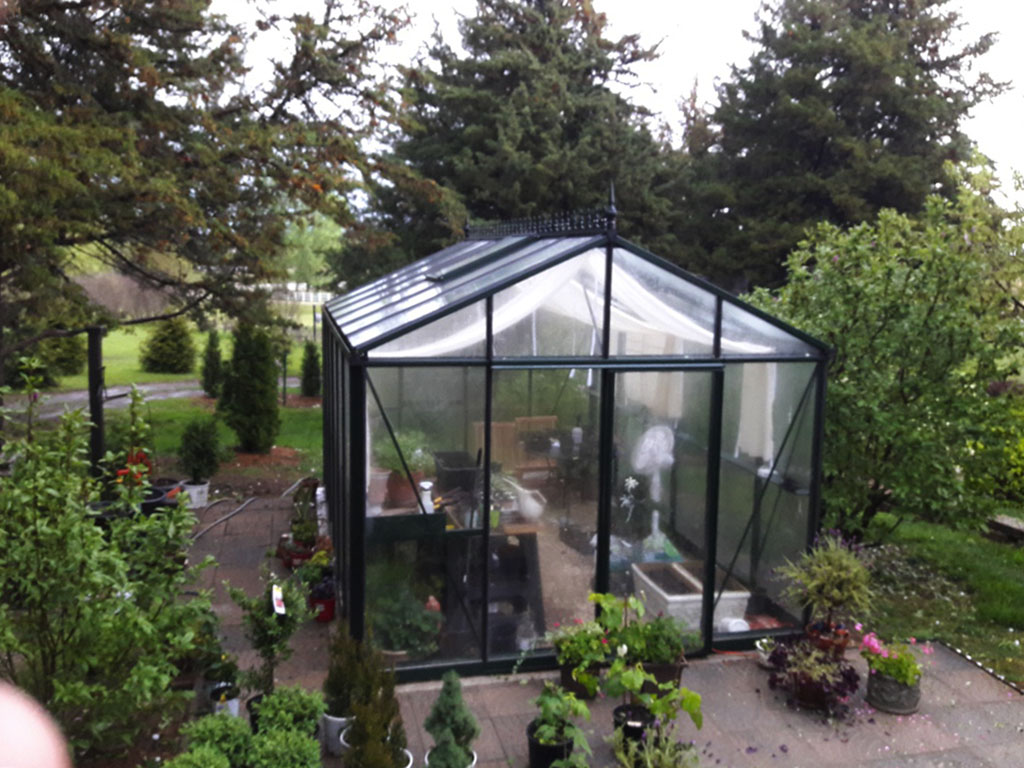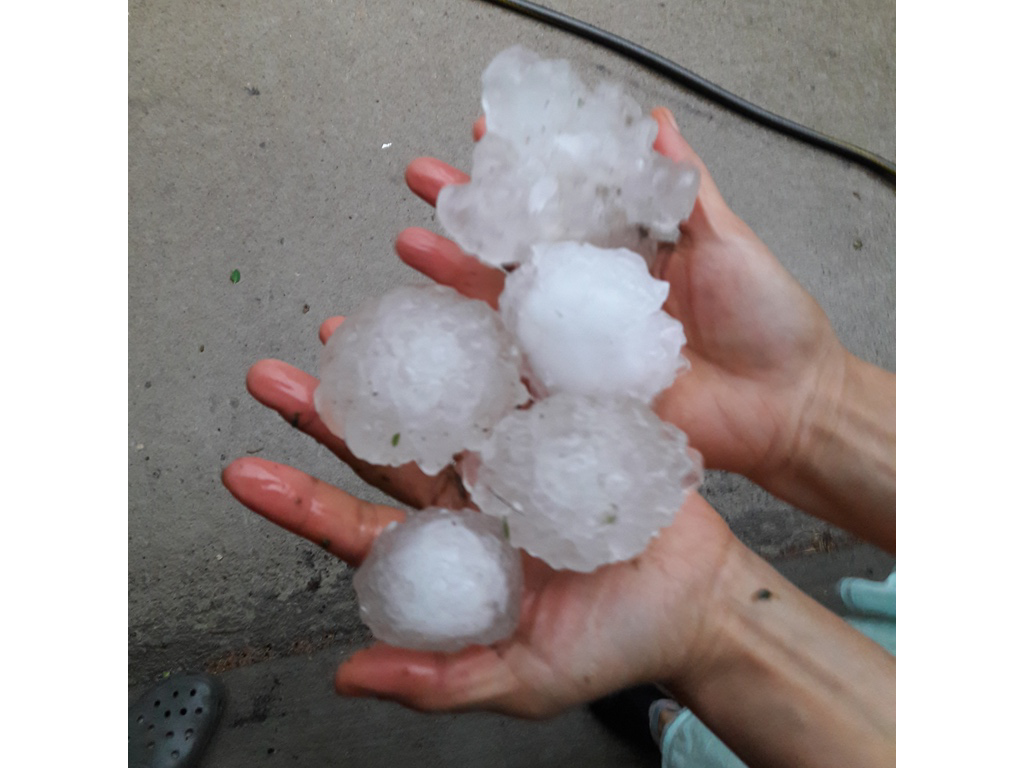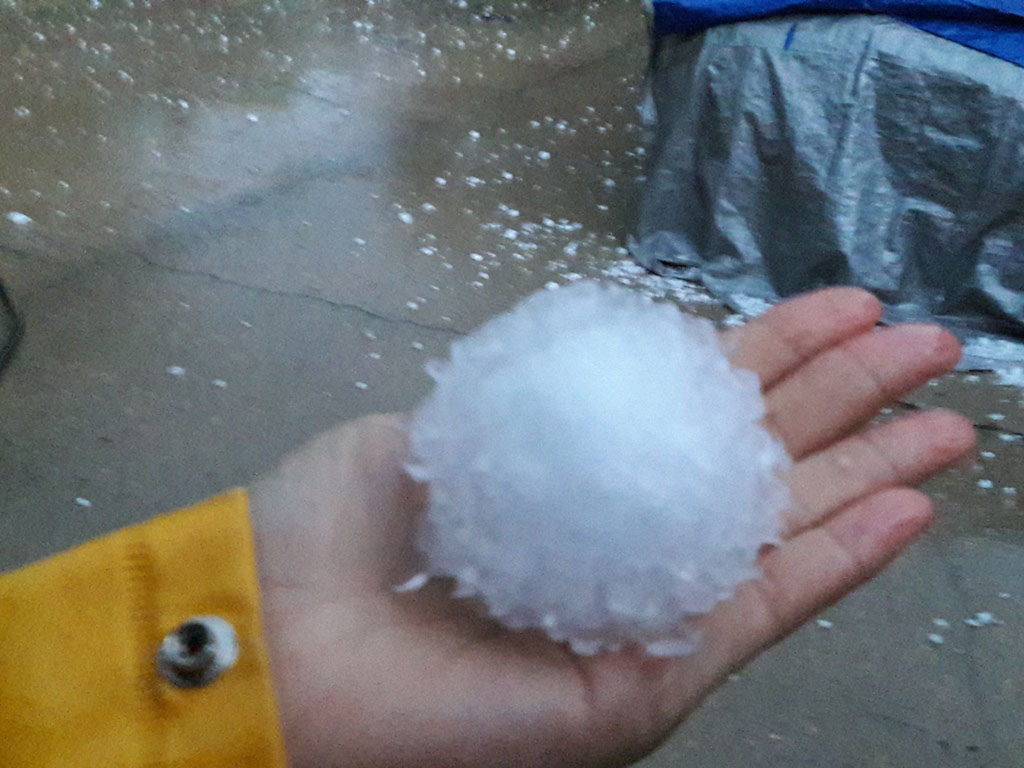 ---
My Fun Fantastic Greenhouse
This is by far one of the most rewarding projects I have taken on!!! I have always wanted a greenhouse and when I saw this one...I spent a week doing research, and bought it. I got a late start on it so I built the frame and mounted on a concrete slab (not necessary...I just wanted it) it was too late to install the glass...so I waited for the first nice spring day and finished it off. Had great help from Andrew and staff...thank you. This is my second year with it and I totally love it!! I'm in Wisconsin so it's not practical for use in the winter other then setting it up to soak up the warmth on a nice sunny day and read a book with a glass of wine in a tee-shirt...even if it's 0 degrees!!!
Yes! I recommend this product.
Sherry Jones | 10/12/2016
---
LOVE LOVE LOVE MY GREENHOUSE!!!
I have had my Royal Victorian 10 x 15 Greenhouse for 9 months now and still absolutely love it!!! I live in Colorado near the foothills and we experience high winds, which is why I chose this particular greenhouse. So far it has stood up to the winds without fail!! I would recommend this Greenhouse (and Exaco Trading) to everyone!! You get personal service and they CARE about you and your purchase. I also paid extra to have it put together for me. For me it was all money well spent!!
Yes! I recommend this product.
Kathy T | 5/31/2016
---
Excellent greenhouse professional quality.
I purchased the vi23 two years ago and could not be more pleased. I have a very small yard would buy the biggest possible otherwise. I am a retired Horticulturist and have owned the double wall polycarbonate and aluminum in past. This product adds beauty and function with lasting quality to your home landscape. The staff were unbelievably helpful and prompt in service. The packaging of the greenhouse was top notch with no problems and the set up was quit basic as well, with the help of my carpenter Before the greenhouse arrived I received a phone call From Andrew Cook to make sure I had all the information I needed and he gave me tips and explanations to help assembly. I have a greenhouse that will last for many years. I live in Memphis Tennessee our zone is a 7b. I have added two small "dairy" type electric heaters , Lights and fan. I added the accessories kit when I purchased. The shade cloth is invaluable here in the mid-south.
Yes! I recommend this product.
Kathy T | 5/31/2016