This product does not work. Extremely disappointed. It's a large garbage disposal.
Hi there,
We recently received a review from you on our site for the Aerobin composter. It sounds as though you are frustrated with the results and so I wanted to reach out to you to be sure you had additional information on composting with the Aerobin that may assist you with your composting. There is a bit of front end steps that can be taken to ensure you are getting the best results from your Aerobin. A lot of this is background information, but it may help explain how and why it works. You may also view the documents section at the bottom of this page for more helpful resources.
If you would like to open the access door/s of your Aerobin and send me a few photos of your biomass, I may be able to offer some tips as well.
I hope this helps!
Unique design feature of Aerobin
Aerobin is designed based on how the nature decomposes the organic waste with oxygen in presence, forest bed is a perfect example, people always smell earthy and soil smell instead of the odorous smell which normally happens in our rubbish bin. The key difference between two situation is because of oxygen. So how Aerobin gets air from outside into Aerobin and also ensure the air can continuously circulate within the Aerobin?
We achieved this based on the chimney affect (hot air raises). In other words, when the biomass in the process of composting, the temperature inside of an Aerobin will be hotter than outside. So the cooler air will be naturally drawn into the bin through the base and the centre lung and naturally hot air rises to the top through the biomass. This is how Aerobin can claim composting does not require extra human intervention such as turning or mixing the compost with new material at a regular basis. Simply put balanced organic waste in and harvest from the bottom section of Aerobin's two access doors.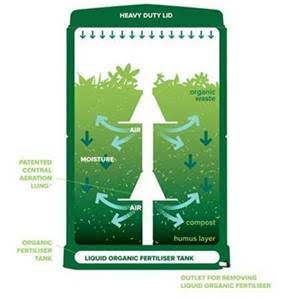 Aerobic Composting process requires 4 elements by nature - nitrogen, carbon, moisture and air.
Compost without carbon (carbon can be brown leaves, ripped cardboard, scrunched newspaper, wood chips, shredded paper, saw dust, paper made of packaging materials) & you've got a one way ticket to a stinky slime festival. FYI- if you only add food scraps without carbon your compost will release methane.
Compost without nitrogen - (nitrogen should be diverse organic food scraps, garden prunings (small pieces), grass clippings, coffee grinds), you've got yourself a load of carbon that going to stay exactly as it is.
Compost without oxygen - you're headed towards an anaerobic mess – generally accompany with stinky smell and wet mushy materials.
Compost without moisture - moisture should come from the nitrogen inputs, generally speaking user does not need to add additional water if the nitrogen content is sufficiently added.
Diversity of carbon and nitrogen will enhance compost process.
To set up before composting
You may want to elevate your bin on a solid and levelled platform, this can protect Aerobin from potential rodent attacks and easier to collect leachate. Please see attached photo.
If you have matured compost lay them on the bottom because of beneficial bacteria it carries
If no compost available, you can lay some wood chips or sticks ( no more 20cm length) for about 20-30cm high, this gives Aerobin good density to allow the air comes inside
And then lay some dry leaves or smaller pieces of cardboard or shredded office paper another 10-20cm high
After this you can start putting balanced carbon and nitrogen materials
How to achieve an easy and rewarding composting result
We believe composting is a managed process, Aerobin can certainly reduce consumer a lot of effort to manage their composting process compare to other composters (e.g. No regular turning and mixing of the biomass is required with Aerobin). To maximising Aerobin's contribution, consumer is encouraged to put a little effort when placing the right size (as small as possible) and balanced nitrogen and carbon material into Aerobin and in turn consumer's composting experience will be much easier, convenient and rewarding.
How to load material in:
When you have a bucket load of kitchen organic waste ready
put them in a large tub/container
Grab two full handful of shredded paper put them in 1st if shredded paper not available, any carbon materials (dry leaves, cardboard, egg tray cartons, toilet paper rolls, online shipping paper based packaging materials, wood chips and sawdust etc) will do but ensure they are torn down into smaller pieces
mix both carbon and nitrogen well with a handy tool such as a small shovel or small garden 3 prong fork
then load them into Aerobin without the material hitting the centre lung as they are dropping into Aerobin.
this way, you will not be creating a lay of wet and lay of dry material, it also creates a good and balanced food source and environment for microorganism to work on the biomass easily and conveniently (carbon materials provide the low density for air to flow better with biomass and also absorbs moisture well as the liquid travels down.)
Have a look these photos and videos, which will provides you a source of reference what organic waste added into Aerobin and successfully generates healthy compost.
Hot Composting
The illustration below will help you to understand thermal phases in composting process and you can view the full article for complete details.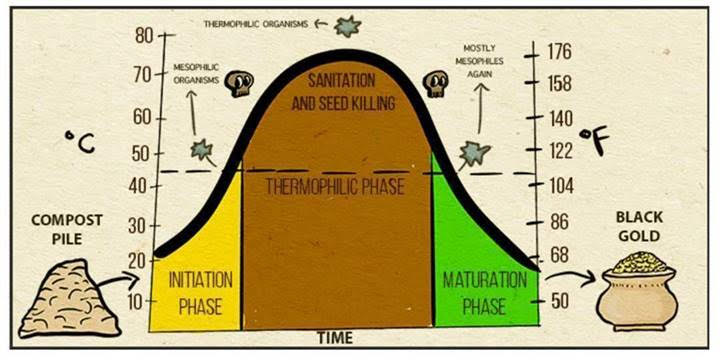 If you have any other questions, feel free to ask. Happy composting!
Thanks,
Cludia
Customer Support
(512) 407-8500 Ext 701